Porcelain Veneers Los Angeles
A beautiful smile with Porcelain Veneer can light up an entire room and even inspire more smiles, but a smile that has suffered damage, decay or discoloration may send a much-different message. Not all of us have been blessed with naturally beautiful smiles, but porcelain veneers can enhance virtually every aspect of your smile. Our Los Angeles porcelain veneers dentist can use dental veneers to improve the appearance of teeth that are worn, misshapen, cracked, chipped, gapped, misaligned or discolored.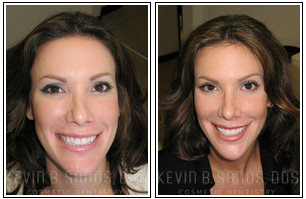 Porcelain veneers have many benefits for their wearers, including: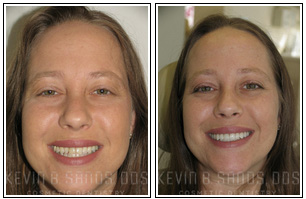 Speed
Porcelain veneers can be applied in just a few visits with our specialist for porcelain veneers in Los Angeles, leaving your smile completely transformed.
Versatility
Porcelain veneers can correct numerous aesthetic issues at once, which means that you will spend less time in the dental chair and more time sharing your brilliant new smile.
Beauty
Porcelain veneers reflect light similar to the way your natural teeth do, and they produce remarkably natural looking smiles that are more symmetrical, proportionate and even.
Durability
Porcelain veneers can last up to 20 years and resist stains better than your own natural teeth.
Brighter smile
Porcelain veneers can be used to conceal stains and whiten teeth, and because they are stain-resistant, the whiter, brighter results are virtually permanent.
Alternative to other treatments
Porcelain veneers can be used to instantly straighten your smile unlike orthodontics, which can be uncomfortable to wear, affect your diet, interfere with your dental hygiene habits and require months to provide results. They can also be used to correct misshapen, damaged or discolored teeth without the need for other dental procedures or treatments, and you can be smiling broadly in just two to three visits.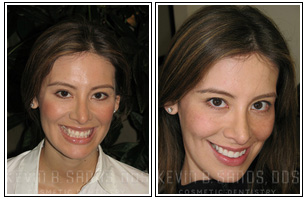 Los Angeles Porcelain Veneers
If you are a candidate for porcelain veneers, our Los Angeles porcelain veneers dentist can place them in just a few visits. At your first visit, we will discuss your needs and preferences as we design your new smile. We will consider your overall facial appearance, coloring and even your sex as we create porcelain veneers that will revitalize your smile.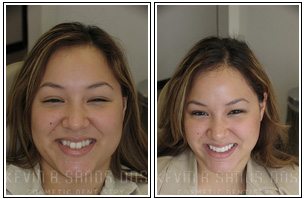 Our specialist for porcelain veneers in Los Angeles can help you learn more about your options. You do not have to settle for a smile that is less than or that leaves you feeling self-conscious. Porcelain veneers can restore your smile and boost your self-confidence. Contact our Los Angeles dental office today to learn more about Porcelain Veneer or to schedule your consultation.